FOR IMMEDIATE RELEASE
CEDIA Expo 2021 Wraps
 Attendees engaged and connected with influential technology brands and integrators at Live Event
Alpharetta, GA (September 13, 2021) —CEDIA Expo 2021, the platform where residential technology integration, designers and construction professionals connect, learn, and engage, wrapped up three full days of show programming in Indianapolis, Indiana. Held August 31 – September 3, 2021 (conference Aug. 31 – Sept. 2, exposition Sept. 1-3), residential technology integrators, designers, and trade professionals came together in person for the first time in two years to connect and discuss topics within the industry.
"Although this was not the show we had originally planned, we adjusted and came together to put on a solid event", said Jason McGraw, Group Vice President of CEDIA Expo & KBIS, Emerald. "While all of our community was not able to participate with us this year, we were pleased to stage a safe event that was meaningful and informative for those who participated. This year's show provided the first opportunity in two years for attendees and exhibitors to spend quality time, building relationships face to face."
CEDIA Expo Attendees – by the Numbers
CEDIA Expo 2021 hosted 82 exhibitors, nearly 25,000 NSF of exhibits, and 1,400 verified attendees. The quality of the show's attendance was solid, with 42% holding the title of president/owner/partner/CEO.  Key decision-makers as well as several first-time attendees engaged in show programming, product demonstrations, and show floor networking events. The use of the CEDIA Expo Matchmaking app facilitated meaningful pre, during and now, post-show connections. Attendees segmented into a variety of important groups:
35% of registrants were first-time attendees
58% of registrants were Systems Integrator/AV Installers
42% of registrants were final decision-makers (nearly half of the attendees)
46 different US states
14 International countries
CEDIA Expo 2021 Programming Highlights included the integration of strategic partner IMCCA to speak to the emerging and growing "work from home" technology segment.  CE Pro presented their product and project awards recognizing Spatial Inc., for their real-time, interactive immersive audio solution and Blackdove for their digital art system. CEDIA's keynote Poppy Crum, PhD of Dolby Laboratories spoke to the topic of storytelling and the role our brains play in connecting, differently.
The TechStarter program celebrated innovator Guard Dog as the 2021 TechStarter winner. Kelly Ryan, Guard Dog's VP of sales and business development shared, "So many technology companies got their start exhibiting at CEDIA Expo, and we're thrilled and humbled to be recognized as we launch our dealer program here. We're in such, such tremendous company."
CEDIA delivered a combination of on-site and on-demand programming and the combined Smart Stage/Innovation Hub delivered dozens of talks, case studies and thought leadership programming.
Eric Bodley of Future Ready Solutions mentioned that he had over 100 qualified attendee leads at the end of the first day of the show. That is what this Expo was all about!
CEDIA Expo Connect
All recorded on-demand programming will be available on CEDIA Expo Connect until October 31, 2021.
CEDIA Expo 2022 – Save the date
CEDIA Expo 2022 will take place in Dallas, Texas – September 29 – October 1, 2022.
About CEDIA Expo
CEDIA Expo, owned by Emerald Expositions, is THE platform where residential technology integrators, designers and construction professions connect, learn, and engage. CEDIA Expo brings together thousands of home tech pros and hundreds of exhibitors to the leading event for smart home technology. CEDIA Expo 2022 will take September 29 – October 1 at the Kay Bailey Hutchison Convention Center in Dallas, TX. For more information, please visit cediaexpo.com.
About Emerald
Emerald is a leader in building dynamic, market-driven business-to-business platforms that integrate live events with a broad array of industry insights, digital tools, and data-focused solutions to create uniquely rich experiences. As true partners, we at Emerald strive to build our customers' businesses by creating opportunities that inspire, amaze, and deliver breakthrough results. With over 140 events each year, our teams are creators and connectors who are thoroughly immersed in the industries we serve and committed to supporting the communities in which we operate. For more information, please visit www.emeraldx.com.
CEDIA Expo Photography gallery below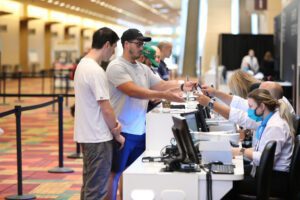 Attendees head to registration while arriving at CEDIA Expo 2021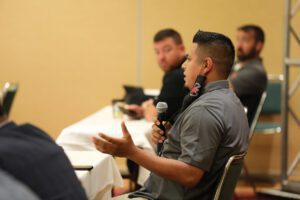 CEDIA Education & Conference Q&A session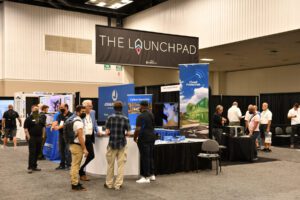 Exhibiting Brands in the Launchpad area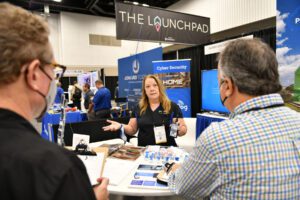 Techstarter judges, Walt Zerbe of CEDIA and Tom Doherty, Director, New Technology Initiatives, HTSA pictured here in the Launchpad speaking with Guard Dog.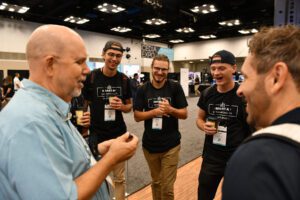 Group of attendees on the show floor at CEDIA Expo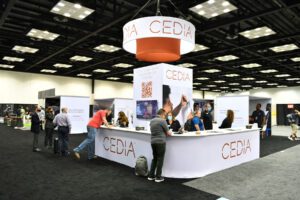 CEDIA's booth on the show floor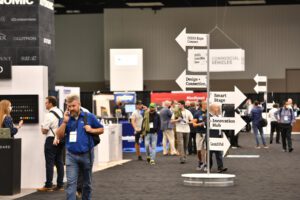 Directional sign on show floor showcasing where the programs and stages are located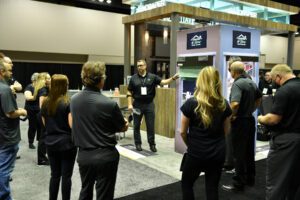 Exhibitor in the middle of a demonstration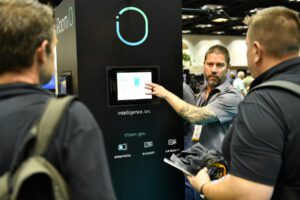 iRoom iO demonstrating their latest product and features.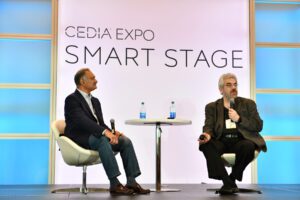 David Danto, IMCCA and Aurangzeb Khan, Senior VP of Intelligent Vision Systems at Jabra, join together on the Smart Stage for "The World of Hybrid Collaboration Post-Pandemic."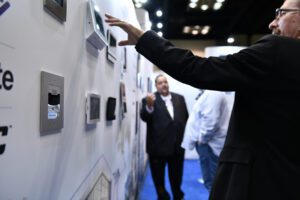 "
Attendees demoing products at Exhibitor booths.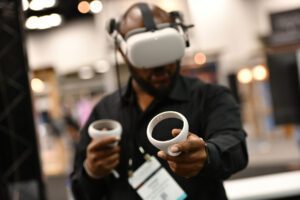 Attendee demoing virtual reality products at Exhibitor booth.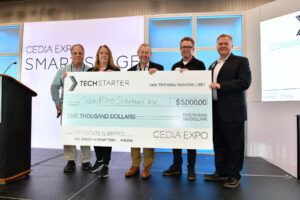 Guard Dog wins the TechStarter Grand Prize of $5,000.00.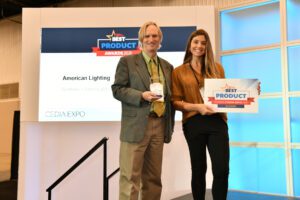 Jason Knott, CE Pro hosts the CE Pro BEST Awards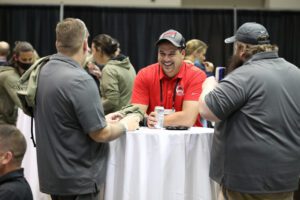 Attendees talking amongst each other on the show floor.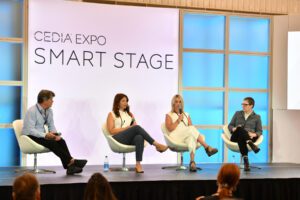 The Performance Home: Where Tech Meets Design hosted by Doug Weinstein, dove into the need for collaboration between integrator, designer, and architect with panelists, Pam McNally, Jamie Briesemeister, and Missy Walters.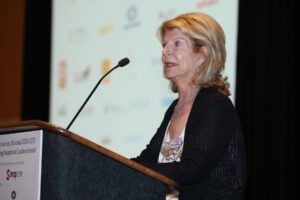 Carol Campbell, Technology Insider at WITC Luncheon.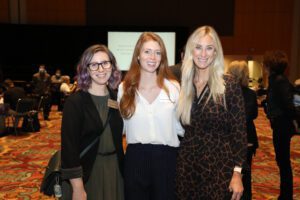 Emerald's Alyson Robb, Meredith Richardson and Rebecca Corbett smile while attending Carol Campbell's WICT luncheon on Day 2 of CEDIA Expo.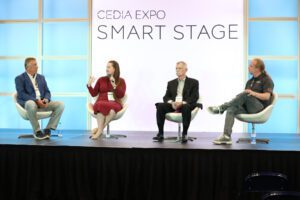 The presentation Hot Ticket: Selling Immersive Home Theaters/Private Cinemas had an all-star panel: George Walter, Rayva, Christina Stroh, StroTek LLC, Dennis Erskine, Erskine Group and Jason Barth, The Premier Group.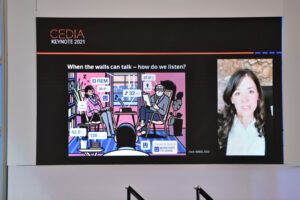 Keynote: Poppy Crum
###
MEDIA CONTACT:
Brittany Loeffler
White Good
bloeffler@whitegood.com
717.725.0291
Jennifer Brough
White Good
jbrough@whitegood.com