Channel Vision releases new Amp-Servant to the custom installation market
The mini Amp-Servant allows residents to listen to multi-room music and seamlessly switches to the TV audio when activated. 
CEDIA, San Diego, CA., September 2018, Channel Vision, a leading manufacturer of innovative technology products for the Well-Connected Home™, announces their new Amp-Servant to the custom installation marketplace. 
 Channel Vision's new ARIA "Amp-Servant" features a built-in 3 source auto switcher that allows residents to seamlessly switch to the audio source (Tos-link, Cat5, and RCA), in that room based on priority levels set by the installer.  This brings the capability of listening to any manufacturers multi-room audio system with the Aria Amp in that room and by turning on the TV, auto switching to the TV audio occurs using the same pair of speakers.  In addition, a third audio source can be added to the Cat5 input such as the Alexa DOT.  Over 100-Watts at 8 ohms class D amplification, subwoofer output, IR-flasher output and IR remote control learning in a mini 1.2" x 2.75" x 7" chassis.
"This is a huge benefit for my wireless multi-room installations," said Jim Whitten, president of I Install It, located in Huntington Beach, CA.  "By combining any TV and Sonos with the ARIA Amplifier, I can offer clients the added convenience of multi room audio and their TV audio using the same speakers and amplifier, something they've always asked for."
Availability
Channel Vision's A0351 Amplifier is available from stock specifically for the installation market and are available for purchase through Channel Vision's distribution network of custom retailers, distributors, dealers and installers throughout the world. For additional information please visit https://www.channelvision.com.
About Channel Vision Technology
Channel Vision is a manufacturer of innovative technology products for the Well-Connected Home™.   The Company's broad-range of solutions are designed to provide lifestyle enhancements for residents, while equipping homes for greater safety, convenience and entertainment.  Channel Vision is proud to provide high quality, dependable products that are backed by its 5-Star Program, one of the finest customer service programs in the industry. The program includes: free panel design & layout, customized manufacturing, free training classes, 2/10/20 warranties and lifetime technical support. For more information on Channel Vision's family of products, please call 714.424.6500 or visit www.channelvision.com.
###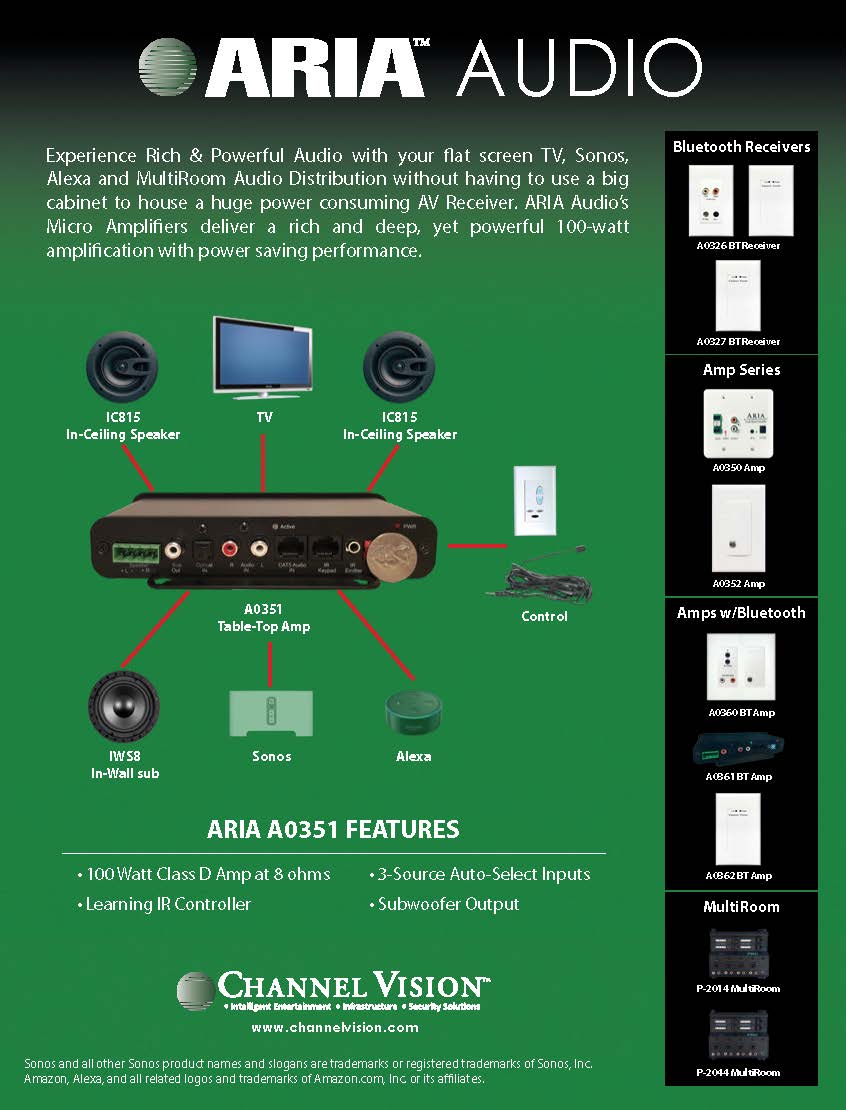 Media Contact: Darrel Hauk                                                                                                                                                                            
Phone: 714.424.6500 x1801
 Hauk@channelvision.com