Software update will further enhance user experience and convenience across the BluOS ecosystem of products
TORONTO, CANADA, MARCH 4, 2020 – BluOS™, the premium multi-room music management platform by Lenbrook International, has announced a number of enhancements available today with the release of version 3.8. Users with BluOS on their device will be prompted to update their BluOS players, at which time, they will gain important updates and access to numerous improvements, including:
• Support for Apple AirPlay 2 on the NAD M12 and M32 with the addition of an MDC BluOS 2i card
• Addition of POWERNODE products to Bluesound Home Theater groups
• Support for MQA-CD ripping on BLUESOUND VAULT and Masters M50 products
• Support for MQA-CD playback on Masters M50 products
• Option to disable rooms on a NAD CI 580 or Bluesound Professional B400S
• Expanded IR learning capabilities
• New front panel display layouts for the NAD Masters M10
• Support for BluOS Controller when multitasking on iOS devices
• Custom Channels and Qsic, new music streaming services for businesses and commercial spaces
MQA-CD Playback and Ripping
Owners of BLUESOUND's VAULT and NAD Masters M50.2 BluOS Enabled players will be able to rip and store MQA-CDs. In many countries around the world, the CD is still a popular medium for music listening. The unique way in which MQA-CDs are encoded allows them to deliver studio-quality sound in the CD format, which has never been possible previously due to space limitations inherent to the format. NAD Masters M50 and M50.2 owners will have the additional ability to decode and play back MQA content from an MQA-CD.
The Bluesound POWERNODE 2i – now in Surround Sound
Already one of the most flexible multiroom audio products on the market, Bluesound's class-leading hi-res streaming amplifier, the POWERNODE, can now be used as part of a wireless BluOS Home Theater setup to play true Dolby Digital® surround sound. Using a POWERNODE 2i (with HDMI) or a Soundbar 2i as the primary source connected to a TV and acting as front left and right channels, rear channels can then be added by using a pair of PULSE FLEXes or another POWERNODE of any generation. Users can easily set up a home theater group with the help of an intuitive wizard in the BluOS Controller.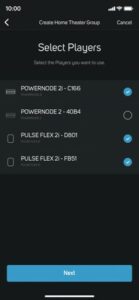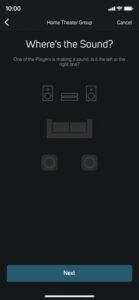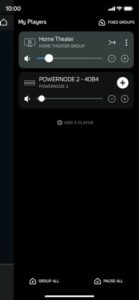 Greater Control for Integrators
Custom integrators in the residential and commercial sectors will have greater control over their players, including expanded IR learning abilities and the option to disable zones in key rack-mounted streaming products.
ABOUT BLUOS

BluOS™ is a premium multi-room audio ecosystem that manages stored and cloud music sources and playback, with support for high-resolution audio streams up to 24/192. Adopted by some of the most renowned hifi audio brands and integrated with numerous smarthome and voice control systems, BluOS allows for interoperability among enabled devices across brands for maximum versatility and use cases. Integrations with popular streaming music services like Tidal, Spotify, and Deezer, as well as featuring support for FLAC, WAV, MQA, and other high-resolution formats and codecs, BluOS offers virtually unlimited access to music of all genres for any occasion. Made up of an operating system and a control application for smart phones, tablets, and PC desktops, BluOS is the ultimate choice for the modern audiophile.
ABOUT LENBROOK INTERNATIONAL

Lenbrook International, a subsidiary of the Lenbrook Group of Companies, is the owner and manufacturer of award-winning brands for home audio and residential install applications. Its full suite of products from NAD Electronics, PSB Speakers, Bluesound wireless multi-room players, and Bluesound Professional commercial audio, are distributed in over 80 countries, while its BluOS hi-res distributed audio platform continues to be adopted by some of the world's leading premium audio brands.
CONTACTS
Corporate Contact
Mark Stone
Marketing, Lenbrook International
mstone@lenbrook.com
US Media Relations
Peter Hoagland
PR Consultant
peter@hoagland.us
UK Media Relations
Richard Stevenson
PR Consultant
richard@rspr.co.uk
LINKS

BluOS 3.8 Media Kit
BluOS: https://bluos.net
Lenbrook: https://lenbrook.com
# # #